Keurig K-Compact Review
Jennifer's Rating: 4 Stars
Well we've got another small Keurig for your eyes only! In this review we will take a look at the K-Compact which is one more small cousin in the little series. At just a foot tall, it is perfect for small kitchens, motorhomes, dorm rooms and campers.
But you also get the added benefit of a reservoir and the ability to seat a tumbler as long as it's no more than 7″ tall.
So now let's have a look at an all-new Keurig that's small on size, big on taste, and easy on your wallet.
Dimensions
Had one incorrect reading of measurements and one correct one – the kicker is to look for the included pictures which are usually visible from Keurig's website. A few discrepancies appeared – once I found one that matched the sales page diagram's , I ran with it. It's 12.5″ in height, 8.2″ wide and 13.2″ in depth. The weight is 6.9 pounds. At a foot tall, it will leave a small footprint, and most of the girth is towards the back.
When the chamber is raised in front it pushes the height to 16.5″. Although small on size, it doesn't shortchange on cups – if you remove the drip tray, a mug with a height of 7″ will fit nicely. So you can feel confident going in if tumbler access is important to you.
What's Included?
It's not explicitly clear from reading the sales page whether or not you get any "goodies" with the K-Compact – pretty much the unit and the user guide and 1-yr warranty. But from reading consumer comments, they insinuated that they did get a bonus K-cup sampler.
Keurig K-Compact Colors
Available colors include: Black, Turquoise, Red, Gray and White (White is more difficult to find however)
Features
Brews 6, 8, and 10 oz sizes
36-oz reservoir
Auto-Off after 2 hours of inactivity
Smart Start
Accepts all brands of K-cup pods
Reservoir
The K-Compact has a small but adequate 36 oz water reservoir. On average, this would support about two 10-oz cups before refilling is needed. It is semi-circle shaped with a max fill line and clear lid that comes off for easy refilling, only thing it does not have is a water filter. For the obvious reason being size, I suppose, however if you look closely at the center there is a filter screen which looks like a little black disc.
One funny thing I remember seeing in the user guide was a mention of not using distilled water. That's odd, I thought, As I recall, only the 2.0's strictly prohibit distilled water die to the lack of mineral content blocking the inside sensors. I know of people who use distilled water in their Keurig and do just fine.
Drip Tray
Conventional looking with an oblong/oval shape, that has a tray (same color as unit – not chrome look) plate that detaches, holds 8 oz of overflow.
Buttons and Controls
No touchscreen – the top right side shows a power button, behind it is an indicator light to tell you to add water when it starts to get low, and 3 brew size buttons lined up in descending size.
In other words – nothing fancy here. The brew chamber handle is nice and sturdy when I had a chance to check it out at Walmart. I like the hard plastic and I think it may be a little more sturdy than the K-Select by comparison (and I like the glossy look better over that one's matte appearance.)
Simple and basic operation is what the K-Compact is about. I've read through the manual and I don't see hardly any settings that can be manipulated.
Keurig Water Filter Kit for K200, K250, K35, and K-Compact

Compatible Accessories For the K-Compact
For the K-Compact you can choose any type of K-cup pod brand or the reusable filters at your convenience.
As it has a small reservoir, I found out that there is a smaller version of the 2.0 water filter that is compatible with this particular model in addition to other back-mounted reservoir models, like the K250.
The kit I found to the left is perfect for you if you're concerned about water purity. It's also got the replaceable cartridges included. So if you are used to having water with a certain drinkability, this would be a good extra to consider.
Keurig K-Compact Consumer Reviews and Ratings
Overwhelmingly positive as far as the K-Compact goes. I did see a good deal more reviews from consumers who bought from Walmart, a few I had to calculate a little differently as some people had received their K-Compact free via Spark reviewers. When culling those out for the potential of biased reasons, I did find that a lot of 4 and 5 star reviews were pretty fair-minded.
Reviews seemed a little more positive than some other comparable models….interesting. All citing quick operation, nice size, few complaints of brew size or weak flavor. There is always the occasional report of weak taste, not hot enough, or plastic taste – that is unavoidable. Those few negative ones I did find did not make much of a dent.
Now one person made a remark that I totally agreed with – why does the Auto-Off take two hours to go off? My K-Mini pretty much is lights out in about ten minutes. Yes, you can just push the power button manually, but it just sounds a little quirky.
Pros
Good size that's right for small kitchens
Has a small reservoir
No k-cup pod brand restrictions
Priced well
Expedient operation
Cons
May need more refilling often
Probably not the best choice for a lot of back-to-back brewing (e.g entertaining, families, etc.)
The Auto-Off setting cannot be changed
Does not have extra settings like temp control, time, etc.
Price
As they say, the price is nice. It is under $100 in most venues, which is great. Only piece of bad news, may be availability of colors; sometimes the price can differ depending on which color you're after. At the time of writing it looked like Amazon was carrying the red, black and gray versions and interestingly enough the gray one (my least favorite) had the highest price.
On eBay I found the K-Compact in most of the colors and a few listings you could easily knock off $10 more if you purchased from there. Wal-Mart seemed to have the best deal if you're after the pretty turquoise. I have included listings for each so you can compare and see which is the better deal for the color you prefer, since prices can change periodically:
Keurig K-Compact Single Serve Brewer, Black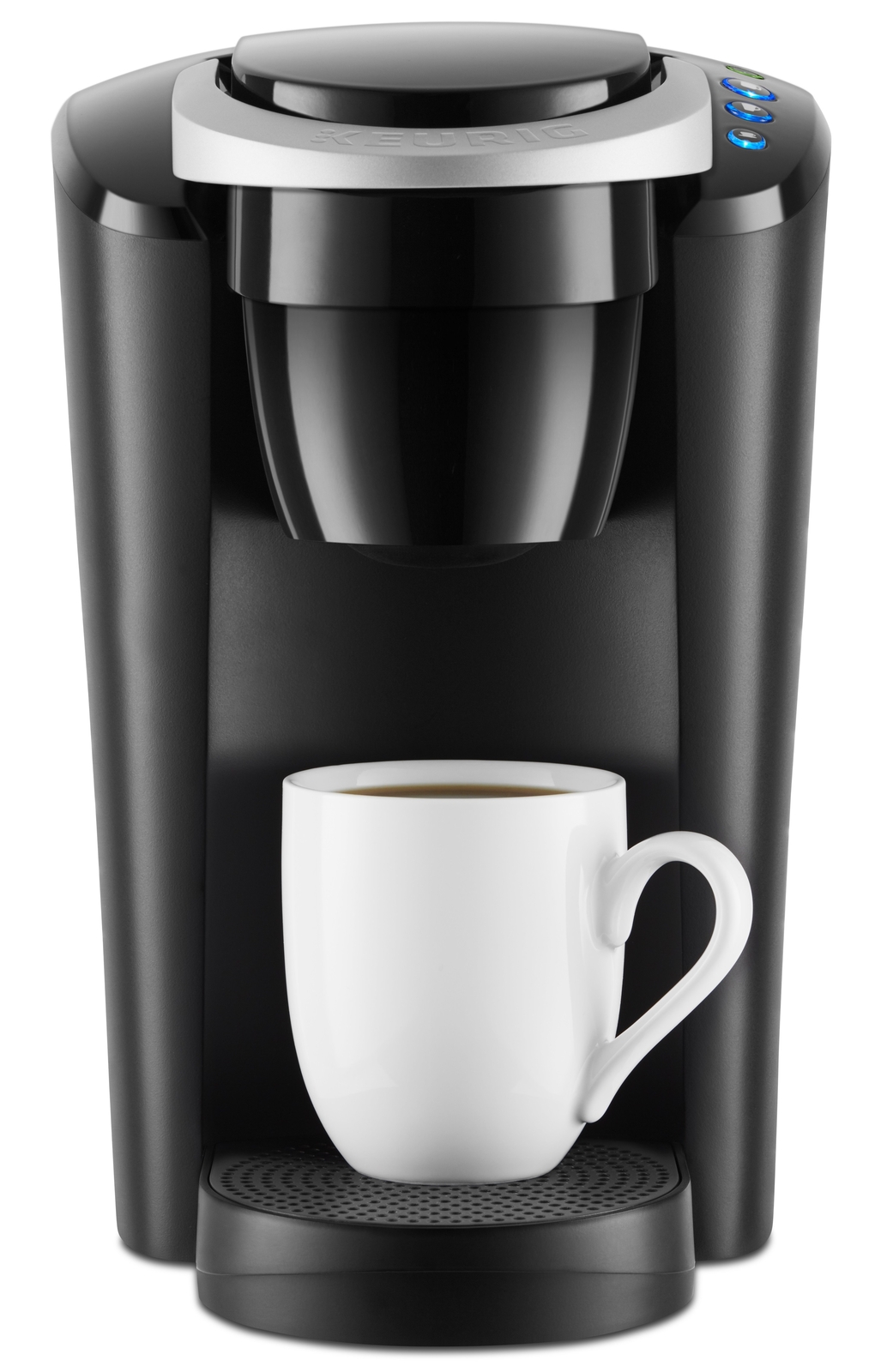 Keurig K-Compact, Black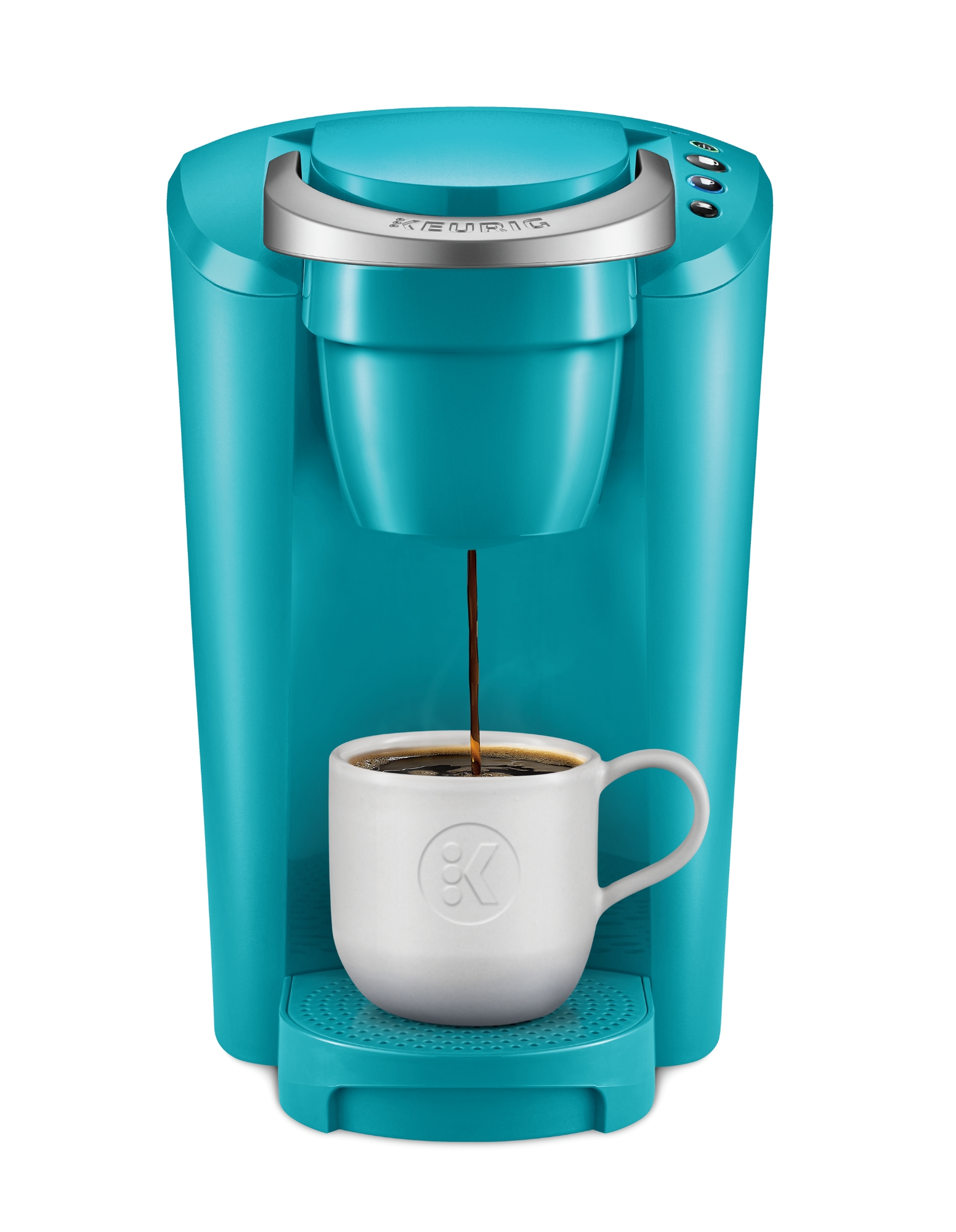 Keurig K-Compact Turquoise

Verdict: Good
I really like the K-Compact. Very nice entry-level (and beyond) fits in small spaces, a small reservoir, takes all pod brands. Nice hard plastic with a glossy finish if you like that look. An excellent pod brewer choice for a single-person dwelling, college student, or off-road traveler. For a larger family, probably less than you may want or need. Not a bad deal when you think about it!